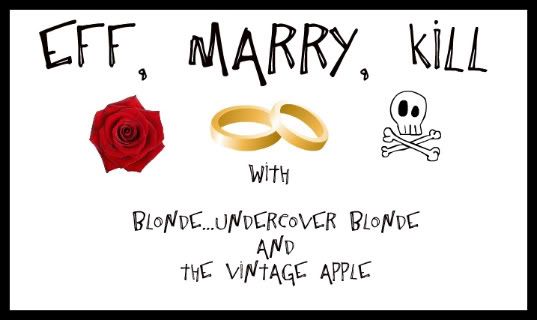 Okay, more on the game we play...
It's called "Eff, Marry, Kill."
Basically, you choose 3 celebrities and the other person has to choose who'd they'd like to *ahem* make babies with, who they'd like to wed, and who could disappear.
I don't like to say I'd kill them. That's a little violent for me.
And we always give our reasons.
So, here we go.... this week I am going to present the Grey's Anatomy Edition!
1. Patrick Dempsey
2. Eric Dane
3. Justin Chambers
My choices are as follows:
Eff: Justin Chambers (obviously, yum!)
Marry: Patrick Dempsey (he would make cute babies)
Kill: Eric Dane.... I know tons of people love him but I just dont get it. Totally not attractive to me. Dont get mad, I had to kill someone!!!!
Leave me a comment and let me know who you would Eff, Marry and Kill, please!